Enrolment guide
TH School Admissions Policy & Information 2021/2022
TH School is an independent, co-educational boarding and day school. TH School features a rigorous English medium international educational experience which honors a deep appreciation of Vietnamese language, literature, history, and culture. TH School welcomes applications all interested students and does not have nationality requirements.
Consistent with its vision of being an exemplary international learning community, TH School welcomes diverse perspectives, backgrounds, abilities, and talents. To be successful at TH School, students must be comfortable in an English speaking academically challenging environment where students are expected to exhibit high levels of academic interest, personal integrity, and community responsibility.
TH School is committed to serving families desiring a high quality English medium education which prepares students for successful entry in universities and colleges in Vietnam and throughout the world.
TH School Student Expectations
TH School is a great please to learn and grow for students who:
are willing to work hard and demonstrate an enthusiasm for learning
are kind, honest, and willing to make positive contributions to the TH School community
are willing to fully participate the curricular and extra curricular programs offered at TH School
are eager to learn English and support classmates in the common goal of English fluency
Unique 80% - 20% Educational Model
TH School supports a research backed model for its forward thinking educational program. All students spend 80% of their school day studying in the International Program (IP). All IP classes are taught in English by qualified teachers. IP courses include core classes in English, mathematics, science, and humanities as well as elective classes in music, art, physical education, STEAM, and film. The remaining 20% of a student's day is devoted to our innovative Vietnamese Studies Program (VSP). All VSP courses are taught by fully qualified Vietnamese teachers. The course of study for Vietnamese students focuses on aspects of Vietnamese language, literature, history, civics, geography, and culture at monther tongue levels of fluency. The VSP for expatriate students focuses on language development and cultural appreciation at acquisition levels.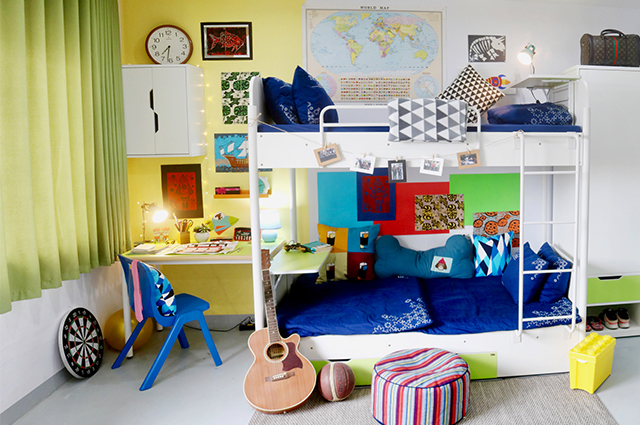 English Language Development
Students at TH School are required to follow an English based curriculum. Therefore, prospective students must demonstrate English language proficiencies appropriate for each grade level. Required levels of English competency increase by grade level. Little to no English competency is required for KG/Primary students, but the level of required English profeciency increases for students in Secondary School. To assist students with limited English competency, a robust English As An Additional Language (EAL) program is provided.
Learning Differences
TH School can accept high potential students with mild learning differences. If a child has specific learning difficulties, additional relevant assessment and intervention documentation, where available, should be supplied by the parents and an interview with the Learning Support Coordinator may be required before a place can be offered.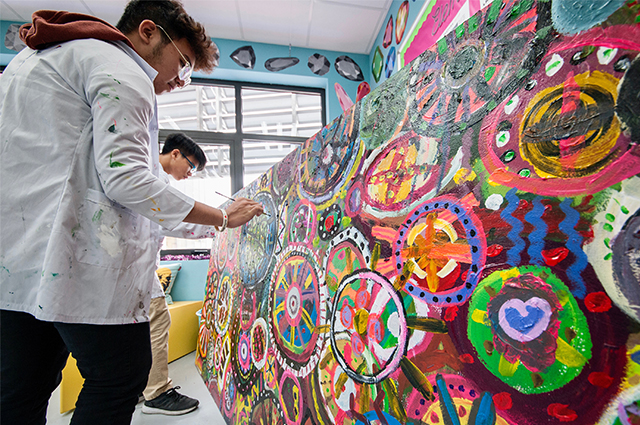 <!- end .btgrid->
<!- end .full-content->
New Student Enrollment
Student grade level placement is determined by the division principal. A student's age, maturity, and for secondary students, prior academic experience factor into the placement.
All applicants are required to attend an assessment session including a cognitive test (for students enrollin in G6 and above) and personal interview with the school Principal. If the applicant is unable to visit the school to participate in an admissions assessment, parents must provide the school with the means of assessing the child's academic potential. This could be an online interview, examination certificates, school reports, recommendations, and/or a transcript. If the division principal requires further clarification, the applicant will be required to participate in all admissions assessments at a later stage.
Children with documented learning difficulties will be assessed by the Learning Support department to determine if TH School can provide the appropriate program of instruction.
TH School believes in developing individualized education programs for each child. To facilitate a student-centered program with high levels of individual instruction, TH School limits class size.
Class size: 18 - 25 students/ class depending on the age group
All KG and Primary classes have a lead international teacher and a Vietnamese co-teacher. All teachers at TH School are highly qualified and may exceed international certification requirements. The secondary school has highly qualified teaching assistants assigned to each academic department.
Promotion to the next grade level is generally automatic. However, the academic progress of students is closely monitored to determine if a child is able to successfully meet the requirements to continue to the next grade level. As students move through the academic program the level of academic rigor will increase.
Generally, students are promoted through the KG and Primary program. As students enter secondary school and Cambridge IGCSE and A-Level programs, the level of academic rigor increases substantially. There may be students who find the increase in academic rigor difficult to manage to the point when school-based support and interventions are put in place, the student may not be successful.
Students unable to meet the academic requirements of the educational program may, in extenuating circumstances, not be offered a place in the following grade level. Students at TH School generally do not repeat grade levels.
Students entering TH School in Grades 9 – 12 are expected to have:
English proficiency:
Grade 9: Students obtain A2/B1 status on the CEFR scale
Grade 10: Students obtain B2 status on the CEFR scale
Grade 11: Students obtain C1 status on the CEFR scale
Academic proficiency: Students have successfully participated in academic programs that will allow them to successfully enter Cambridge IGCSE and A-level programs. Academic readiness will be determined by evaluations of prior academic records, relevant placement tests, and interviews.
Academic and emotional maturity: Students must have the maturity to function in an academic atmosphere that expects independence, collaboration, and effort. Students in the IGCSE program can expect to self-study 10 – 14 hours per week outside class time. Students in the A-Level program can expect to self-study 15 – 20 hours per week outside class time in addition to independent study sessions during the school day. Teachers offer constant academic support but high levels of maturity, independence, and motivation are essential for success in Cambridge programs.
* Students not meeting the above recommendations may find it challenging to successfully complete the Cambridge IGCSE and/or A-Level programs.
Priority enrollment consideration will be given to siblings of students enrolled in TH School.
Enrollment can only be offered when all required documents, supporting evidence, and associated fees have been provided to the Admissions Office.
Following the recommendations of division principals, final acceptance to TH School is determined by the Superintendent of Schools.
Required application documents:
Application Fee
Completed Application Form
Entrance test (If applicable)
Copy of student's passport or birth certificate
Temporary Residence Registration / Resident Card (If applicable)
Medical Record and Immunization Record
Most recent school records in English (Translated where applicable)
Temporary Graduation Certificate (If applicable - grade 10)
Learning Support assessment documentation (If applicable)
School Transfer Application Form ( the previous school)
Bus Registration Form (if applicable)
Child Care After School Hours Form (if applicable)
Teacher Recommendation Form
Terms and Conditions (signed)
Parents are asked to accept an offer of enrollment within two weeks of notification. If acceptance is not received within the two-week time frame, the enrollment offer may be withdrawn and offered to other students.